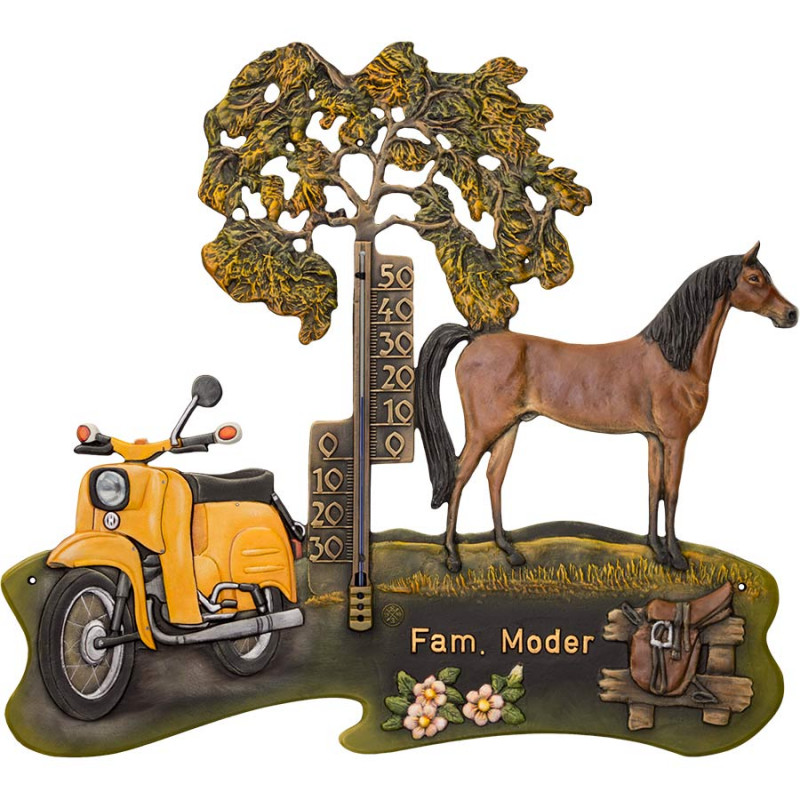 search
 
DDR Moped und Pferd
Kultmoped aus der DDR in saharagelb
Kultmoped aus der DDR in saharagelb! Dazu ein Pferd und der passende Pferdesattel.
Dieses exklusives Außenthermometer aus Kunstguss verleiht einen Hauch von Nostalgie und Freiheit. Originalgetreu nachgegossen und von Hand bemalt macht es an jeder Hauswand eine gute Figur.
Zusätzlich kann ihre persönliche Hausnummer und Straßennamen aufgebracht werden.

Gestalten sie ihr Thermometer selbst.
Nach ihrer Vorlage und mit unserer Kreativität fertigen wir ein exklusives Außenthermometer.
Die besondere Note für ihr Haus.

- 100% Handarbeit aus dem Erzgebirge




- für den Außenbereich am Haus und Garten




- gegossen aus Aluminium




- mit UV-beständige Farben handbemalt




- wetterfest versiegelt




- zur einfachen Wandmontage vorgebohrt




- inkl. Befestigungsschrauben, Dübel und Distanzstücke



Ein originelles Geschenk für Mopedfreunde, Motorradbegeisterte und Nostalgiker oder als besonderer Blickfang für ihre Hausfassade.

Möchten sie eine besonderes Außenthermometer kaufen - kontaktieren sie uns!
Note: Since our products are all made by hand, there are slight deviations in shape and color. Therefore we exclude the exchange.